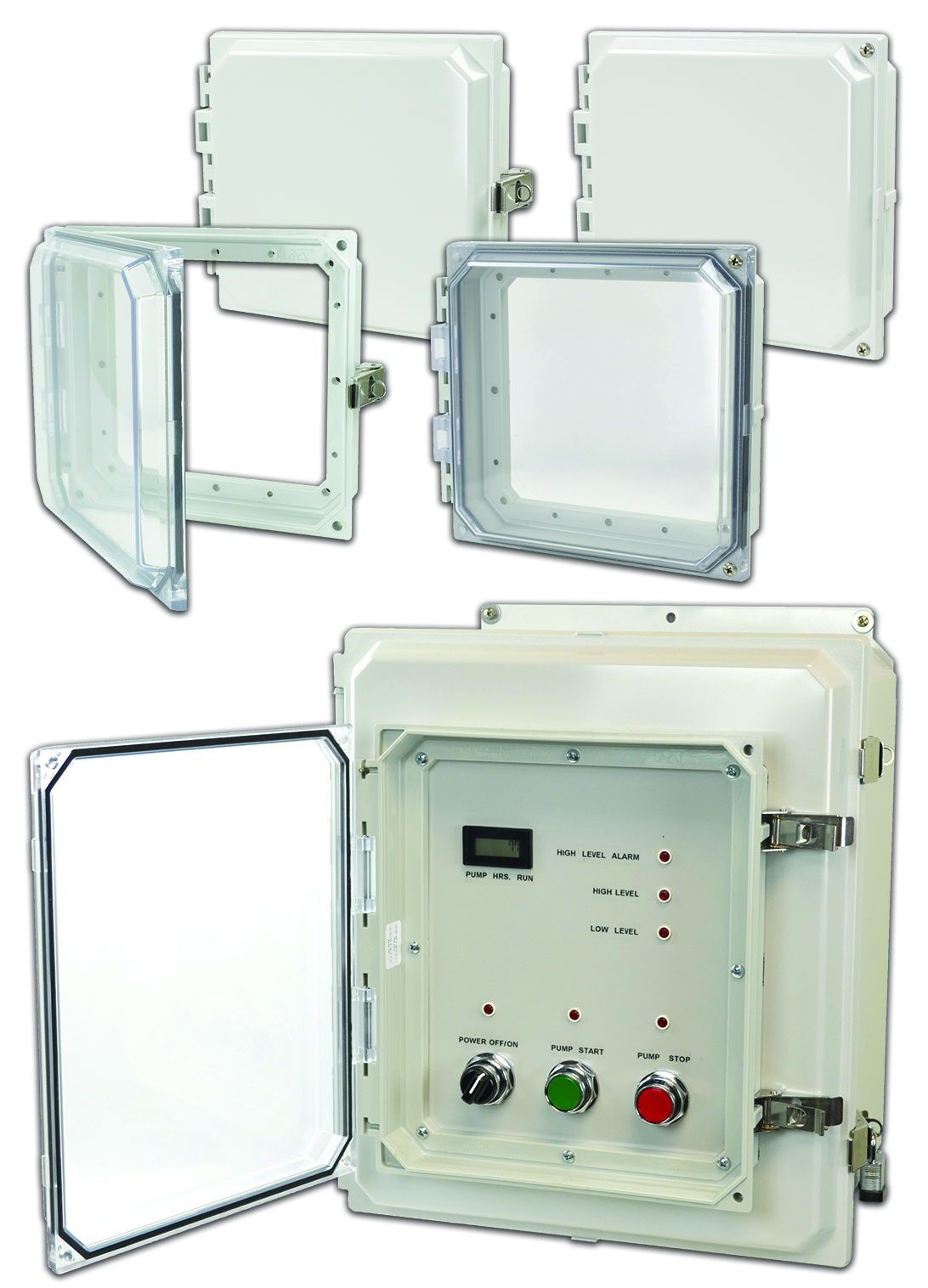 January 25, 2018
BRYAN, Ohio – Allied Moulded Products, Inc., an industry leader in nonmetallic electrical boxes and enclosures, is expanding its line of premium enclosure accessories with an additional size HMI cover kit (8″ x 8″).
HMI cover kits are designed to provide protection for instruments or electronics requiring routine attention or detail. The cover kit features a strong and rigid design, mounting securely to the outside (flat surface) of any enclosure, and makes access to electronic components easy. Now available in five sizes – with the addition of an 8″ x 8″ – HMI cover kits are UL® listed and maintain a NEMA 4X seal with the use of a Formed-In-Place (FIP) polyurethane gasket system, and is well-suited for outdoor applications. Multiple cover latching options are also available, including a hinge screw, tamper-proof screw, and lockable metal snap latch model. All are available in solid opaque or clear polycarbonate covers.
Allied Moulded continues to be a leading manufacturer of nonmetallic electrical enclosures and a "one-stop resource" where fiberglass and polycarbonate products can co-exist depending on the specific application characteristics and chemical compatibility requirements. For more information about Allied Moulded, visit www.alliedmoulded.com.
About Allied Moulded Products, Inc.
​Allied Moulded Products, Inc., established in 1958, is a leader in the production of fiberglass-reinforced polyester and polycarbonate, nonmetallic electrical boxes and enclosures, for use in residential and industrial applications globally. The Bryan, Ohio-based manufacturer is perfecting material and design formulations that result in products with increased strength, reduced weight, corrosion resistance, non-conductivity, UV resistance and ease of installation.