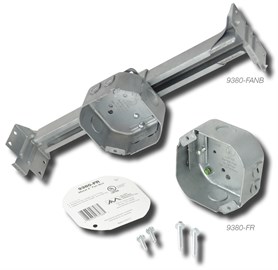 Steel Fan Support Boxes with or without Bar Hangers
Allied Moulded manufactures fan and fixture support boxes to address many applications. The latest addition to this extensive product line is the steel fan box, P/N 9380-FR, and the bar-mounted steel fan box, P/N 9380-FANB. These ceiling fixture/fan support boxes are rated for use in both 16″ and 24″ span ceiling joist applications and meet both UL® deflection and 2011 National Electrical Code (Section 314.27) requirements. Both are for new work installations.
Steel Fan Box Features
4″ octagonal, 17 cubic inch steel box
Higher ratings including 70 lb. fan and 200 lb. fixture rating, with no reduction in ratings when used on 16″ or 24″ on-center joist applications
Positioning tabs for easy joist placement
Universal bar for mounting in 16″ to 24″ on-center joist construction
Plaster cover provided for retaining mounting hardware and protecting box
MORE FAN BOXES FROM ALLIED MOULDED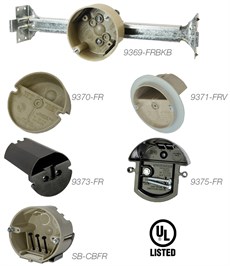 In addition to the new steel fan box, Allied Moulded offers a heavy-duty bar mount, ceiling fixture/fan support box (P/N 9369-FRBKB) and several "open saddle" 4″ round, high rating joist and side/direct mount fan support boxes. The fiberglassBOX™ series (P/N's 9370-FR and 9371-FRV) offers premium hard box characteristics, delivering quality and value to your residential building project.
The thermoplastic P/N's 9373-FR and 9375-FR offer strength while being light-weight, and have ample room for housing wire.
Allied Moulded's SLIDERBOX® high rating fan support box (P/N SB-CBFR) provides an easy solution to both new and old work applications, and provides a faster alternative during installation. With SLIDERBOX, there's no need to remove or relocate mounting screws to reposition the box.